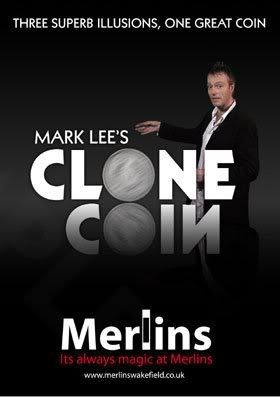 The Effect
One coin - a bucket-full of applications!
Now with brand new professionally shot instructional DVD. Clone Coin was launched at the Blackpool convention 2007, where it received a great response from all who saw it and consequently was a sell out.
With this precision-made coin, you are able to perform multiple coin miracles with ease.
Mark Lee teaches three routines on his DVD, Clone Across, Clone Matrix and Clone Alone.
The CLONE COIN effectively gives you an extra coin when you need it and vanishes it when you don't! Limited only by your imagination, don't miss out - Old English Penny Version, other coins available on request!
Cost
Old English Penny Version - £34.95, other denominations vary from lower to higher
Difficulty
(1=easy to do, 2=No sleights, but not so easy, 3=Some sleights used,
4=Advanced sleights used, 5=Suitable for experienced magicians only)
Definately no higher than a 3. Should be an absolute doddle to anybody even vaguely associated with coin-work.
Review
Following one of my usual impulse, CUPS-based purchases, I found myself gifted with a free copy of Craig Petty's 'Split Happens' DVD...even though I didn't already own a Clone Coin (the gaff which the DVD features).
Never one to be put off by the prospect of yet another visit from our lovely postie, I set off, in search of the perfect Clone Coin.
With my faithful CUPS-detector, glowing, throbbing, and generally pointing the way, it wasn't long before I happened across the website of Merlin's of Wakefield, who manufacture this version of the gaff (there are several types available - Clone Coin, Super Coin, and Split Coin - there does appear to be the usual wrangles s to who actually originated the effect, but Merlin's seems to have the drop, as far as I was able to make out).
Needless to say, bearing in mind my current penchant for Copper Silver Brass routines, Merlins was the only suppier able to provide the gaff in Old English Penny flavour..and what a delicious flavour it turned out to be!

Suffice to say that this little beauty turns out to be made of pure evil, with a capital E

Whilst I'm familiar with quite a few gimicked coins these days, this really is a sly little bug*er, and the gaff that Merlin's supplied was amazingly-machined - taking it out of it's little pouch, I studied it closely, back and front...and saw nothing!!
Only when I subjected this baby to some more tactile Robbie-Love, did I fully appreciate the nature of the beast.
The DVD is supplied with three, fairly basic routines, but even these are really powerful, fundamental as they are, and I was raising my wife's eyebrows (again!), at my new-found prowess, within less than an hour.
Forget S****S, or '[', as they seem to be referred to recently - here's a coin which you can flip hard, toss from hand-to hand, and (luckily for me) even drop on the floor, without exposing it's cunning secret!
Whilst it's not prohibitively expensive, this is a gaff which seems to have slipped through the net, completely unjustly.
I just hope it stays that way now

Overall
A score, you ask?
Well, it's really too early for me to give anything definative, but - if I'm going purely on the quality of the gaff, coupled with the DVD routines, I give it an easy 9/10!