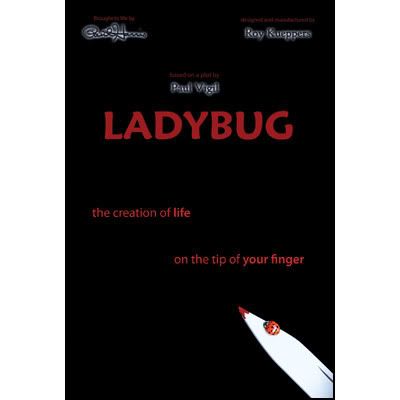 The Effect
You bring the crowd in close, then open a small pocket knife. Your hands are otherwise empty. The blade is seen to be normal.
Placing blade on bare flesh, you pierce a fingertip and squeeze out a single drop of blood.
Again, both hands are seen to be completely empty except for the single drop of blood on your fingertip.
You carefully show both sides of a fingertip from your other hand...and slowly press it down onto the drop of blood. You silently wait there for a moment...fingertip to fingertip. You slowly lift one finger...and the drop of blood is gone! In its place, perched on the end of your finger, is a living breathing ladybug!
The creation of life...on the tip of your finger.
Start and finish clean. Practical, easy, real world handling. Resets with another ladybug in 30 seconds. Neither the performer nor ladybug is harmed during the effect! Alternate "non-bug" presentation to transform the drop of blood into a tiny heart. No actual piercing of flesh is required. Optional handling leaves the ladybug sealed inside a clear plastic bag.
Includes custom-engineered knife, carrying case, and instructional DVD. Ladybug resource guide: You can easily obtain enough ladybugs for hundreds of performances. The ladybugs are shipped in a self contained package and require no feeding or care.
Cost
£60 - £70, depending upon supplier.
I ordered mine from
www.magicproshop.com
, but it's not showing on their pages any more, so I'm guessing they may be sold out there.
Currently available in the UK from World of Magic (
http://www.world-of-magic.co.uk/magic.asp?id=17455
) for £62.81
Difficulty
(1=easy to do, 2=No sleights, but not so easy, 3=Some sleights used,
4=Advanced sleights used, 5=Suitable for experienced magicians only)
Ermmm...not sleights as such, but there are a couple of moves which will take a little practice; I'd rate this a 2-3
Review
For some reason, this is one effect which seems to have slipped under the radar in the UK (possibly something to do with the price-tag

), which is a great shame, as I can see this playing as nothing less than a minor-miracle.
Bear in mind that the impact of this effect will be all the greater due to the fact that it's intended for an intimate performance right
underneath the noses of the spectators
- they need to be up-close-and-personal due to the fact that your fingertips ARE the stage!
The effect plays EXACTLY as described - there's NO exaggeration in the blurb; the on-lookers really do see you piercing your flesh, coaxing a drop of blood from the puncture....and then see the blood transform into a live ladybird, which you set free (there's no blood left behind afterwards, and your finger is left totally unmarked

)
The alternate handling (for those times of the year when ladybirds are hibernating), is to have your drop of blood turn into a heart-shaped 'ruby', which can be given to the spec as a momento; not as strong-an-effect, but still eye-popping in itself

You receive: An instructional DVD, a beautifully gimmicked pen-knife (in it's own leatherette pouch), 3 other gimmicks (which I can't describe here!), a couple of small ladybird bottles, and a nice pouch to keep the entire lot in.
The DVD is very well produced, indeed, and covers multiple presentation options - it's very, VERY thorough (though the soundtrack between segments really grates

).
The only down-side to the DVD is the on-screen tips which occasionally pop-up; they're written in dark red writing on a black background...in a very small font - so small, in fact, that you have to get right up to the TV to read 'em

There's one other, slightly contentious, issue of obtaining a stock of live ladybirds; the 2 websites given on the DVD aren't really feasible for UK residents, due to prohibitive shipping costs.
That said, there ARE several UK websites where you can obtain kits that will enable you to breed your own, along with links to Euro suppliers of larvae/eggs, so I can't see this being too much of an issue.
Overall
Everything here is absolutely wonderfully-made (which you'd expect for the price!), and the gimmicks work like a charm.
Sure, you need to source ladybirds or jewelled hearts (I picked a pack of 20 of these up from eBay for £1.50!), before you can really perform the effect, but it's such a strong jaw-dropper that I don't think owners of this will be too put out

9.5/10 (lost .5 only due to the DVD tips being almost unreadable

)